Il y a des répliques qui restent, qui marquent, auxquelles on repense et qu'on aime ressortir parfois. Des répliques qui représentent bien un personnage ou une série. Au lycée, j'avais recouvert une de mes pochettes de cours d'un tas de citations extraites de séries.

Il y a des répliques qui marquent plus que d'autres parce qu'elles sont le reflet parfait d'une situation :
You run, I chase. Just like always. (Miss Parker à Jarod, Le Caméléon - The Island Of The Haunted)

Il y a des répliques qui sont la définition même d'une série :
The tuth is out there (X-Files)

Il y a des répliques qui vous font adopter un personnage comme ça, d'un coup :
No second chance. I'm that sort of man. (Le Docteur, Doctor Who - 2x00 : The Christmas Invasion)

Il y a des répliques pleines de promesses qui peuvent nous faire attendre 5 ans sans rechigner :
Harm : Tell you what. Five years from this moment if neither us are in a relationship, we go have ourselves a kid.
Mac : You and me ? Have a baby together ?
Harm : Yeah, with your looks and my brains he'll be perfect.
Mac : And what if SHE has YOUR looks and MY brains ?
Harm : That could work too. So what do you say. Deal ?
Mac : Don't make a promise you can't keep.
Harm : I haven't yet.
(JAG - 4x23 : Yeah, baby)

Il y a des répliques qui vous donnent le sourire parce qu'elle suggère du ship dès le premier épisode :
Sam : You know you really will like me when you get to know me.
Jack : Oh, I adore you already.
(SG1 - 1x01 : Children of the gods)

Il y a des répliques qui reviennent, comme des running gags :
It's not a lupus. (Dr. House)

Et il y a la réplique, celle qui fait fondre, qui fait monter les larmes aux yeux :
He needs you. That's very me. (Doctor Who - 4x13 : Journey's end)
Voilà, si je ne devais retenir qu'une réplique, qu'une citation, ça serait celle-là.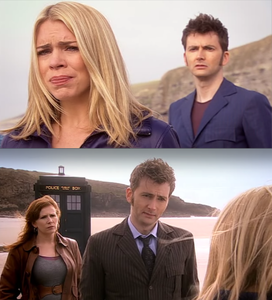 Oh, et je ne l'ai pas dit, mais les captures
viennent du blog de La Sorcière